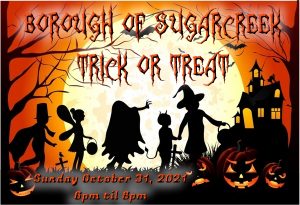 Trick-or-Treating will be held from 6:00 PM til 8:00 PM on October 31, 2021 in the Borough of Sugarcreek.
Please have fun and remember these safety guidelines.
Trick-or-Treat:
*Trick-or-Treat in groups and have adult supervision
*Stay on sidewalks to avoid traffic
*Wear costumes that fit well and do not obstruct your vision
*Wear a bright colored costume, reflective material, and/or carry a light
* Have an adult check your candy prior to eating it
At Home:
*Place Jack-O-Lanterns in an area with limited burnable items
*Consider using Jack-O-Lantern lights instead of candles to reduce the risk of fire
*Lock you cars if they are left outside
Driving:
*Slow down and watch for children; especially in residential areas
*If you choose to drink PLEASE have a designated driver
*Remember even prescription drugs can cause impairment; if you feel different you drive different
The Sugarcreek Borough Police Department would like to wish everyone a Happy and Safe Halloween.