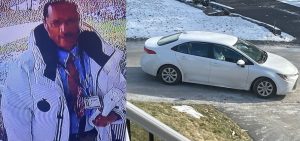 The Sugarcreek Borough Police Department has received information concerning a suspicious male along with a suspicious white in color Toyota Corolla Sedan 2021 which is used by the male bearing Florida registration. See photos.
The male stops at various residences and portrays himself as a vacuum sales person. The male has an identification card on a lanyard around his neck, however from security cameras it appears the identification card has a photograph of a woman on it.
The operator of the vehicle is not clearly seen in the security videos.
Anyone with additional information is asked to contact the Sugarcreek Borough Police Department at 814-437-3703.