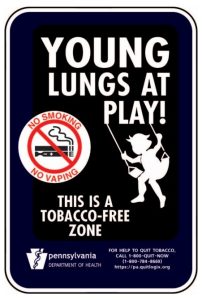 Sugarcreek Borough, Venango County is proud to welcome the Rocky Grove and Reno Playgrounds to the growing list of Venango County communities/Organizations who have joined Young Lungs at Play!- an initiative to make public parks, playing fields and playgrounds tobacco-free.
Sugarcreek Borough Council invites all Venango County cities, municipalities, school districts and county government to join Sugarcreek Borough in eliminating children's exposure to secondhand smoke at local public parks, playgrounds and playing fields by participating in Young Lungs at Play!, a no cost tobacco-free parks and playgrounds initiative that has been proven successful in other parts of Pennsylvania and the country. This initiative will help protect the environment and the health of all Venango County residents.
The initiative assists municipalities to designate parks, playgrounds and recreation fields tobacco-free. The organization(s) then provide the municipality with weather resistant Young Lungs at Play! signs that can be posted in those tobacco-free public areas.
For more information about Young Lungs at Play, contact Paula Di Gregory, Tobacco Programs Coordinator for NWPA Tobacco Control Program at 814.758.1919 or at Paula@DiGregory.onmicrosoft.com or visit The Erie County Department of Health website. This program is supported by the NWPA Tobacco Control Program and funded through the Pennsylvania Department of Health.